Microphone NATEC Giraffe 2 NMI-1563 1,8 m cable 20 - 20000 Hz
The condenser microphone is constructed of moving covers and a steel membrane mesh, which are charged with polarizing voltage, creating a special type of capacitor. The device is distinguished by very high sensitivity.
MIKROFON NATEC GIRAFFE 2 BLACK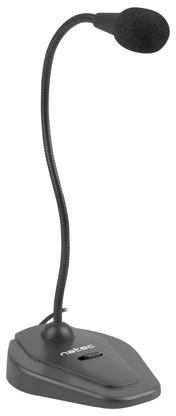 Best Features
li
Memidirectional microphone
Flexible headband
Modern design
Antidy base
M/off switch
< div class="col-sm-6">
NATEC GIRAFFE 2
The Natec Giraffe 2 omnidirectional microphone is a mandatory equipment for any player or streamer station, as well as facilitating communication for users of any communicators. High quality sound processing, as well as sensitivity and modern design are the main distinguishing features of this microphone. Therefore, it will certainly meet your expectations!